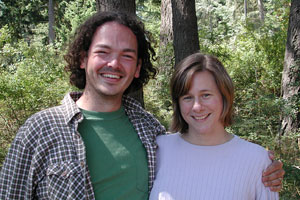 Managing Director
kplittle@u.washington.edu
Curriculum Vitae
As Managing Director/Outreach Coordinator of the Center for Cell Dynamics I have the pleasure of working with extraordinary scientists who have introduced me to the power of combining bench experiments with agent-based and dynamical systems computational models to reveal and predict the molecular details underlying various developmental - cell biological questions. As a research scientist by training I've spent the great majority of my scientific life trying to understand the fundamental processes underlying cardiac muscle contraction (see my attached CV and the links to my previous mentors' websites). Not unexpectedly, the approaches being used and questions being asked at the CCD were quite new to me when I arrived at the Center nearly four years ago. However, after witnessing first-hand at the CCD the results of these as of yet broadly uncommon endeavors, I am convinced that the melding of the in-vitro and the in-silico, brings, to the practice of science, an enormous potential to extend our understanding of biological phenomenon beyond what one can intuit by experimental observation alone. The scientists here think about the cell and how it behaves in new and exciting ways. Please come visit us. You will be amazed at what is going on up here in our little corner of the world.
As the Managing Director/Outreach Coordinator of the CCD I am responsible for the administrative operation of the Center. With a staff of nearly 20 people +/- 5 on any given day there is rarely a dull moment around the CCD. Lest you think I am Super-Administrative-Woman, I must acknowledge the other half of the Center's two-person administrative team, Mr. Charles Paxton. When he isn't fly-fishing, Charles and I keep our selves busy with the day-to-day administrative operations of the Center. Charles and I make a good team and our interests and talents complement each other. I enjoy the pre-award aspects of sponsored project administration/grant management and Charles is a whiz at the post-award tasks. As you read through the rest of the CCD's website it won't take you long to realize that I am also the "go-to" person for the Center. If you have a question about how to get here, how to stay here once you get here, or what to do and how to do it when you're here, I'm the person to ask. If I can't help you I will put you in touch with someone who can. Please feel free to contact me via email (that is the best way) kplittle@u.washington.edu or by phone 206-543-6596.
Although I wear my administrative hat nearly 100% of the time, I have had a few "moments" of respite from my paper-pushing responsibilities over the last couple of years to get back into the lab. I have been fortunate to be involved in a project led by my husband, Dr. Ryan Littlefield, exploring the mechanisms underlying thin filament length regulation in striated muscle and other cytoskeletal contractile structures. Please see Ryan's webpage for details about this project as my account of my role on the project (data analysis - it's not glamorous but it is necessary!) pales in comparison to the beautiful microscopy images/movies, and details/description of the overall question and modeling approach that Ryan can provide. One of the most rewarding aspects of working with Ryan has been interacting with the FHL Blink's Student Research Scholars,
Ms. Angelica Castillo and Ms. Katharine Liang
(http://depts.washington.edu/fhl/studentBlinkschol.html)
who have come to the CCD over the last two summers (2006, 2007) specifically to work with Ryan on different aspects of this project. These bright, capable, considerate women were a pleasure to work with and are shining exemplars of the next generation of young scientists/medical professionals.
n my role as the Outreach Coordinator for the Center I have had the opportunity to recruit for the Center at several of the NIGMS-sponsored Annual Biomedical Research Conference for Minority Students (http://www.abrcms.org/index.html) meetings. I strongly encourage students who are looking for summer research internships and mentors who are seeking research opportunities for their students to contact me directly. The CCD will make every effort to accommodate smart, motivated undergraduate and post-bac students seeking hands-on research experience.
Some useful links:
Dr. R. John Solaro (my thesis adviser) at the University of Illinois at Chicago, Department of Physiology and Biophysics (http://www.uic.edu/depts/mcpb/pages/solaro/solaro.html)
Dr. David M. Warshaw at the University of Vermont, Department of Molecular Physiology and Biophysics (http://physiology.med.uvm.edu/warshaw/).
Dr. Sandy Bernstein at San Diego State University, Department of Biology (http://www-rohan.sdsu.edu/~wk/mhc/index.html)
Dr. Ron Milligan at The Scripps Research Institute, Center for Integrative Molecular Biosciences (http://cimbio.scripps.edu/groups/Milligan/)
University of Washington (http://www.washington.edu/)
NIGMS National Centers for Systems Biology (http://www.nigms.nih.gov/Initiatives/SysBio/)